Discography
2023
Sousastep - Sousastep
Bandcamp, Soundcloud, Spotify, etc.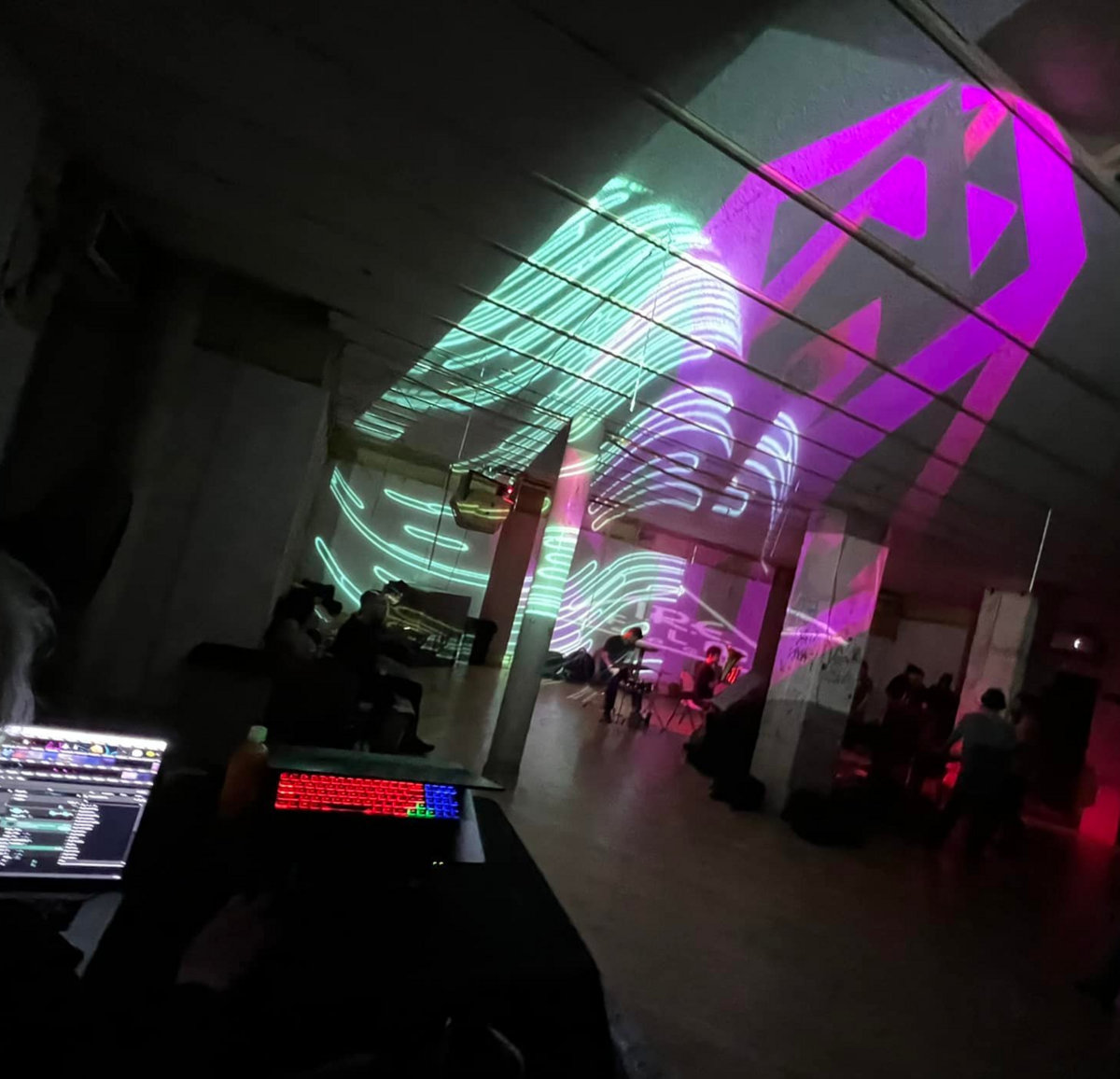 Sousastep - Assorted Jams Volume 1
Bandcamp, Spotify, etc.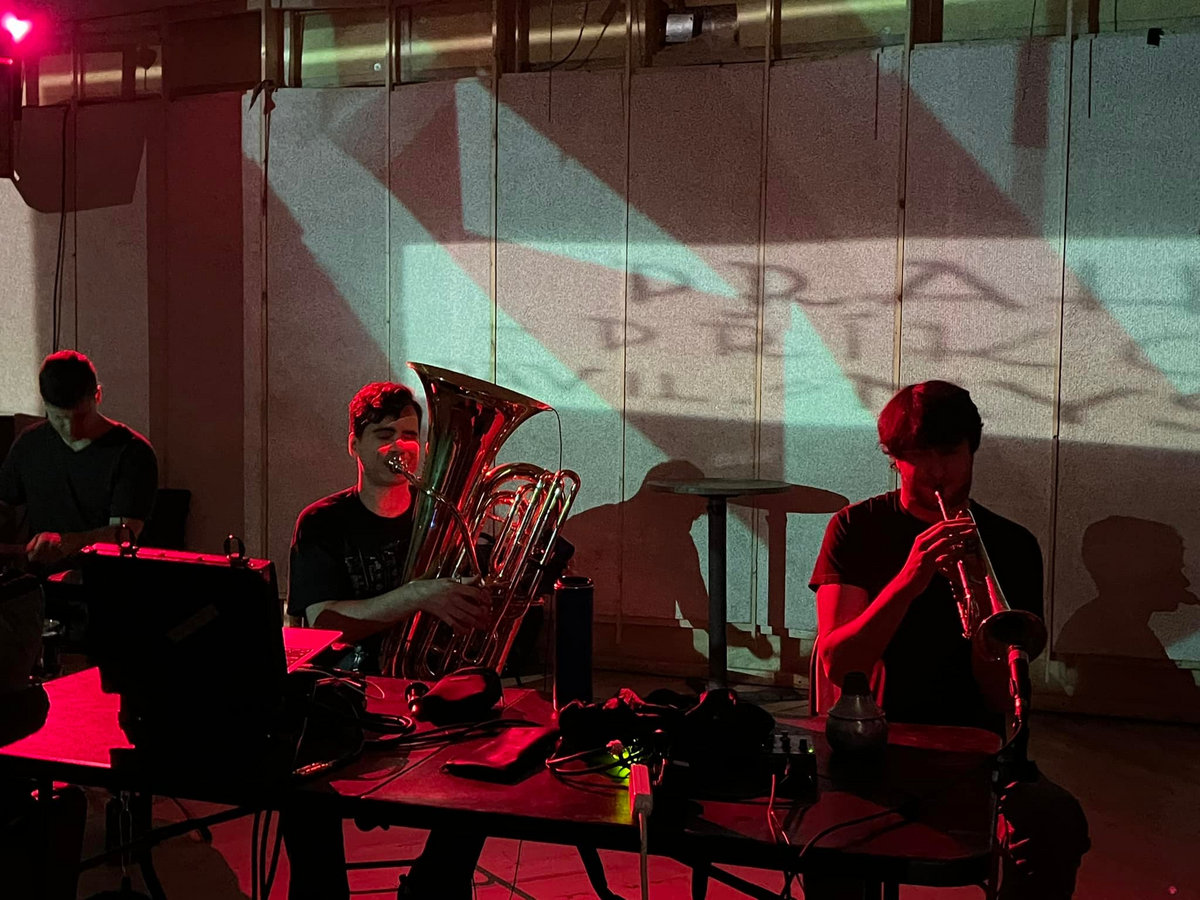 Review by Elijah Shiffer in The New York City Jazz Record's May 2023 Issue #253

    With an ensemble name like Sousastep, it's no surprise that this music is somewhere on the outer fringes of jazz. The style is difficult to describe succinctly, except as a fascinating balance of experimentalism and accessibility. Assorted Jams is entirely improvised, but every track has an obvious key or mode, and most have a definite tempo with a danceable beat. It's a refreshing reminder that free improvisation doesn't require rhythmic or harmonic abstraction.
    Sousastep is the brainchild of tuba player John Baylies, who has developed a distinctive vocabulary for his instrument that makes use of electronic processing and effects. Most of the other instruments heard on Assorted Jams are similarly processed. Together with the modal textures, the electronics create an immersive sonic palette. Each track is a little world to hang out in—perhaps a distant planet, as Baylies' bass lines often pulsate psychedelically like some retro-futuristic idea of outer space.
    These musical parameters are remarkably consistent throughout, considering that these jams are, in fact, quite assorted. No fewer than 22 players appear on this album, in lineups ranging from two to seven instruments. Baylies is the only one heard on all 11 tracks, which were recorded between 2018 and 2022 and titled for their location and date. The leader's brother David Baylies stands out as a particularly sensitive, expressive improviser. He plays trumpet on three tracks and guitar on the last, longest track, "Patchen ave: Oct. 9th, 2022", a beautiful trio meditation with trumpeter Thomas abercrombie. "Mott St: Oct. 15th" features the late tenor saxophonist Richard Keene, a member of the deep downtown avant-garde, who passed away in 2021. Keene's rich, heavy, fully-acoustic sound blends tastefully with the lines of fellow tenor saxophonist Uran Kamper.
    Assorted Jams is a unique, utterly contemporary addition to the world of the tuba. Baylies has explored the possibilities of his instrument with electronics as much as, if not more, than anyone else has. an album as striking as this has the potential to be the start of a new tuba-driven genre—perhaps named "sousastep" itself!

2022
Sunnyside Electric
Naima 4 Namai
A Fool's Errand
Enlightenment is a Destructive Process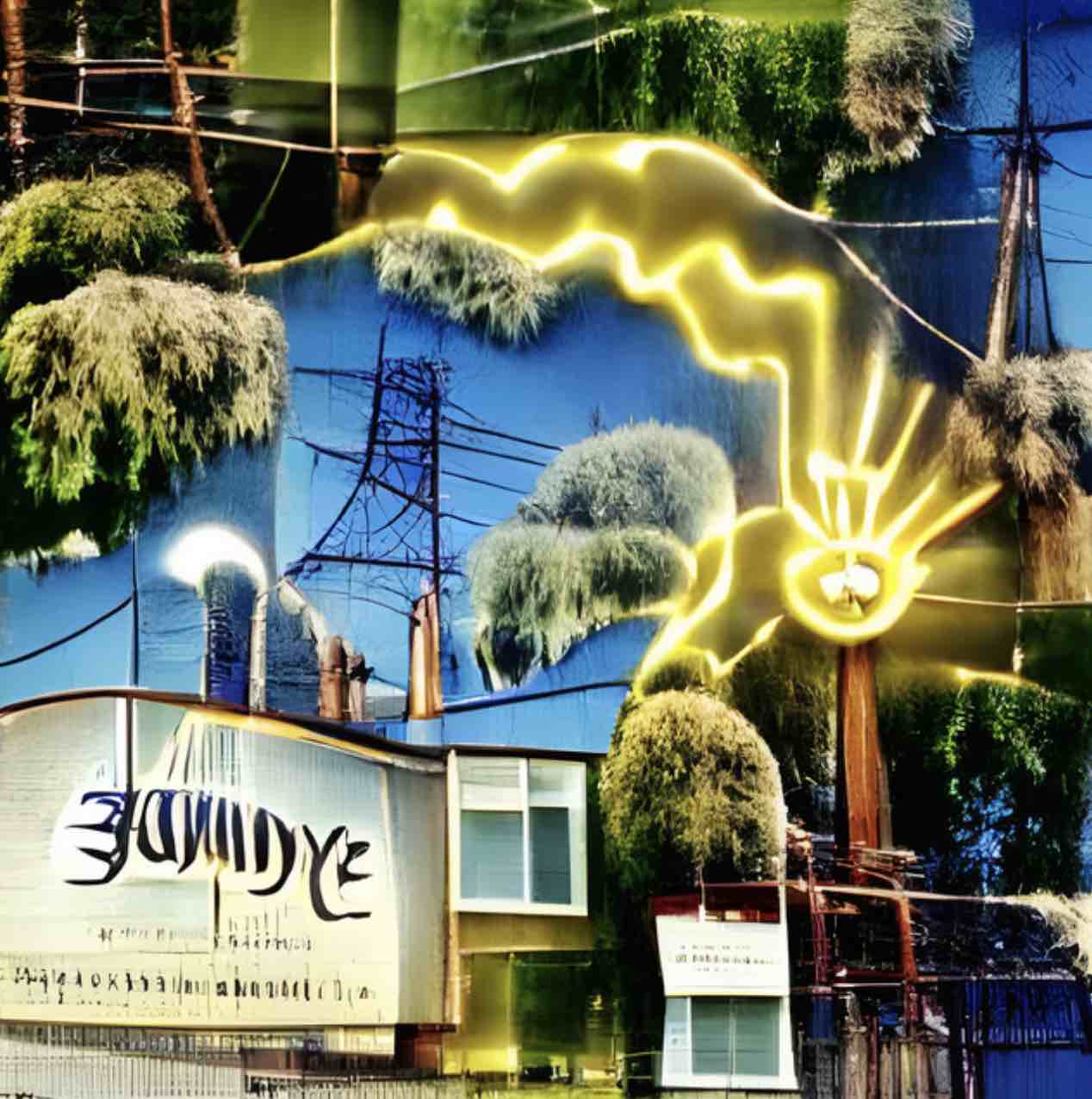 2020
2019
2018
Sousastep - Four Original Electroacoustic Grooves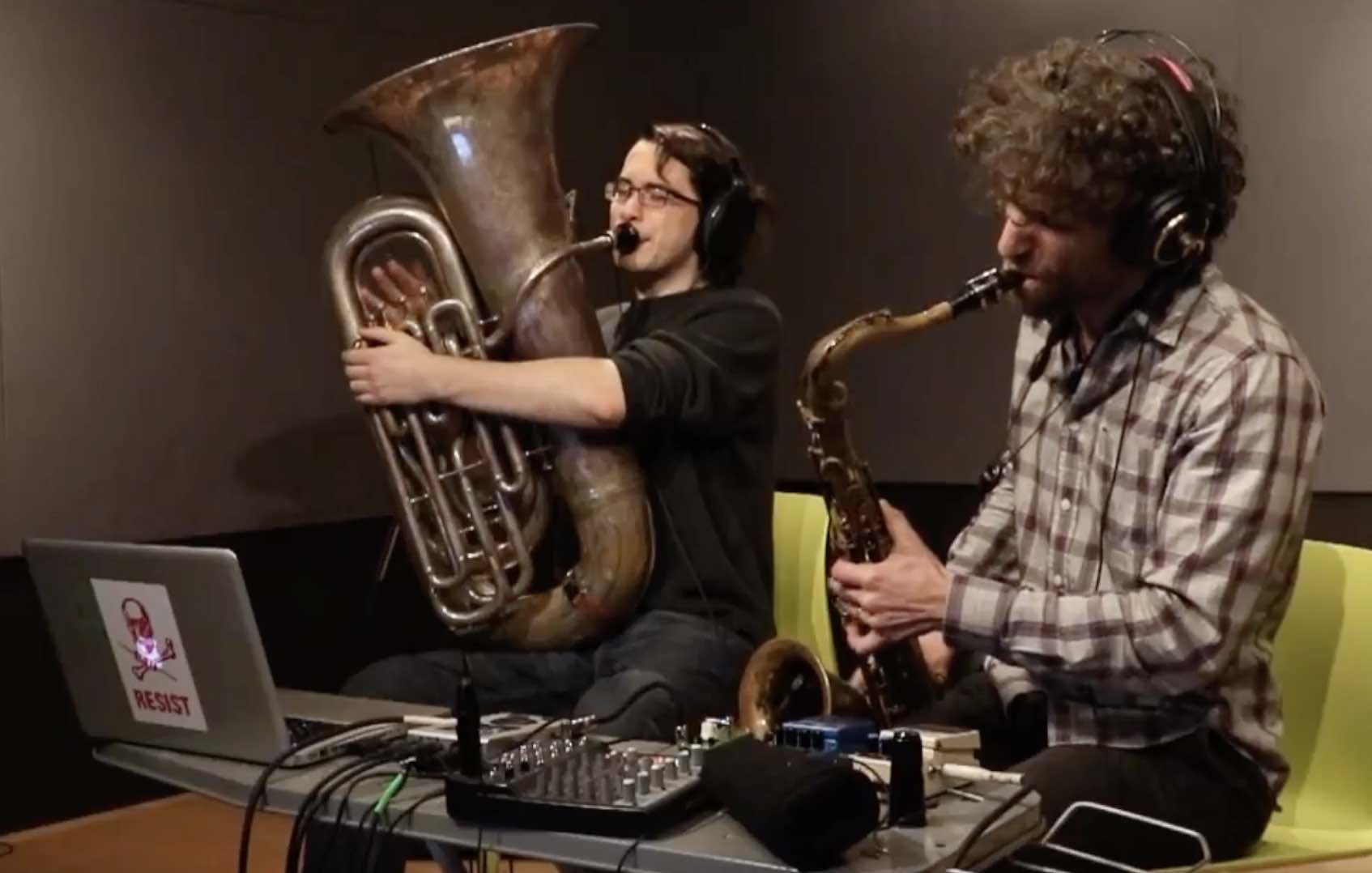 2016 - 2017
Eric Dahlman - Glacier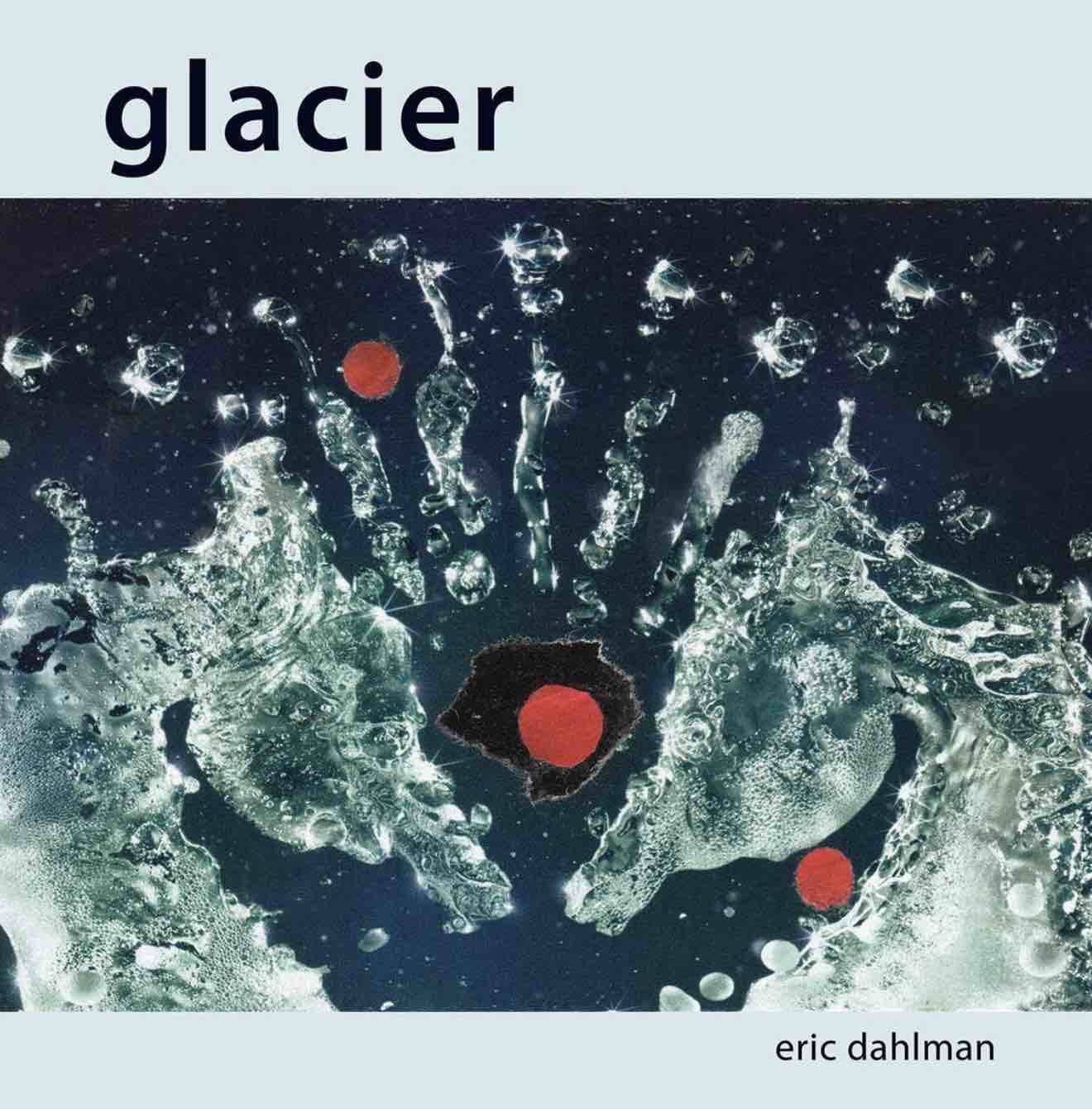 Review by Psychedelic Waves
    Glacier is a vast canvas of aural paintings featuring ambient collages, chants, and sound effects, tied together by haunting meditative and often experimental jazz. It's at times slow and chilling, like its namesake, at others, warm and spiritual in nature. Although there are individual tracks on the album with brief moments of silence between them, listening, I find it more like one whole piece of music, as themes recur and moods slowly shift: from the pure, crystal chill of Lilies, with its ringing bells and echoing trumpet; to the warm and easy groove of Once Again, with its vibrant acoustic guitar; to deep, profound moments like Ablation, with its spacey drones and half chanting, half singing voices.
    I particularly like way Dahlman and his producer Mike Mayo have mixed this album, creating deep layers of sound without ever making it muddy. Every layer is clearly heard, the deeper you listen. The ears pick this on every track as ambient textures, mysterious melodies, percussion and natural sounds fade in and out, weave around each other, creating a hallucinatory dreamscape, a shamanic journey open to rich interpretations. Some of the tracks off the album can be heard in the movie The Bear Cult, a documentary about man's relationship with bears, from prehistoric times to present day. I can hear that temporal dynamic echoing throughout the music on Glacier, as sometimes it feels ancient and primal, with the sounds of nature and deep earthy drones, but at other times it can bring you into the modern era with hummable melodies and the background noise of civilization.
    I heartily recommend this to fans of artists like John Hassell, Brian Eno, even Miles Davis. This is jazz, but like those great artists that came before, it pushes the boundaries of what both jazz and music in general can do. But Eric Dahlman does it in a way that's not harsh to the ears; exotic, maybe, but always a pleasure to listen to.

Turbulence
Flux
Eddies PerTurbed
Skin Friction
(perform, electroacoustic free improv)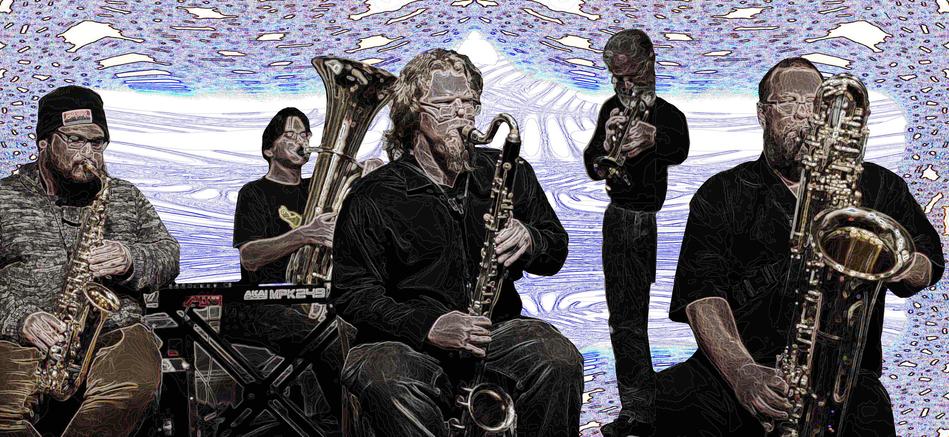 Turbulence Doom Choir
Energy Cascades
Angular Velocity Vectors
Netherworld
Lava Flow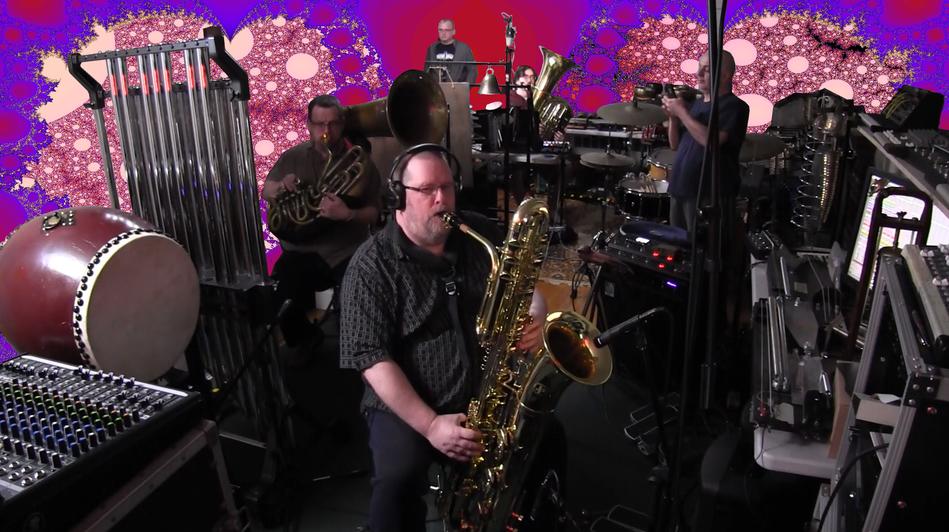 Review by Bruce Lee Gallanter
    The Turbulence Doom Choir features PEK on clarinets, saxes, theremin, saxophone, etc., Dave Harris & John Baylies on electric tubas and Yuri Zbitnov on drums & other percussion. Turbulence is yet another Leap of faith offshoot unit with two core members: PEK & percussionist Zbitnov, plus fellows on amplified tubas, both of whom are members of the Leap of Faith Orchestra and a few smaller LoF sessions. "Turbulence" seems like a most appropriate title since this is what it feels like to be a raft on an ocean of crisscrossing currents. Both tubas are in the center creating layers of low-end drones with the disorienting blend of PEK's shrewd reeds & double reeds and Zbitnov's dizzying percussion.
    As with all of the discs from the Leap of Faith network, this one evolves organically to give each member of the quartet a chance to converse and evolve. Leap of Faith secret weapon is their drummer Yuri Zbitnov who knows when to navigate the rapids or lead the rhythmic currents. In the first long section, Yuri is featured and creates a great robust groove, making us want to dance to the central infectious vibe. This is a strong spirited date, that is rarely too far out and sounds consistently spirited, engaging and filled with a central focus or magic. It is not that turbulent but still most well-conceived.

Leap of Faith Orchestra & Sub-Units
Differentiations
Possible Universes
Helix
Optimizations
Supernovae
Encryption Schemes
Viscosities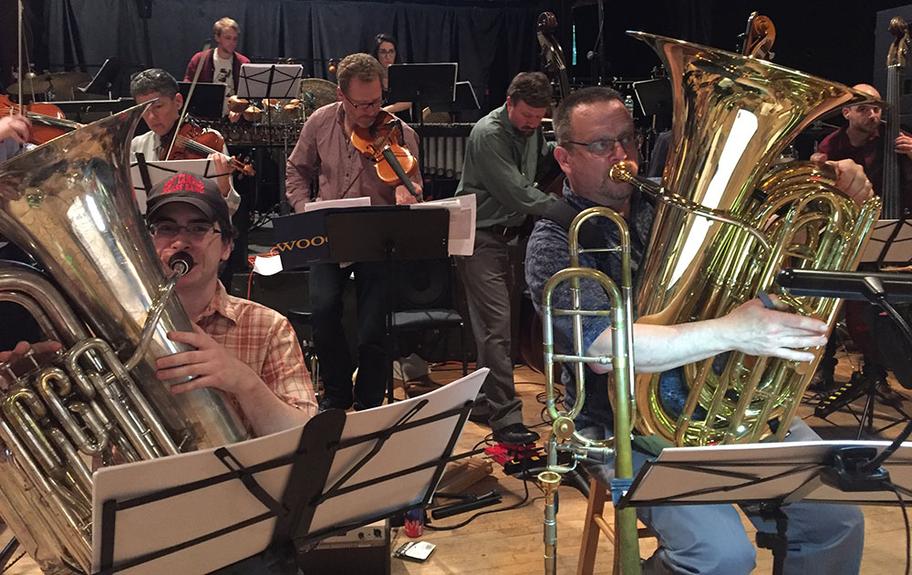 2015
Technician credits
Brendan Ige - Carnival of the Animals:A Dichotomy of Music
Bandcamp, Spotify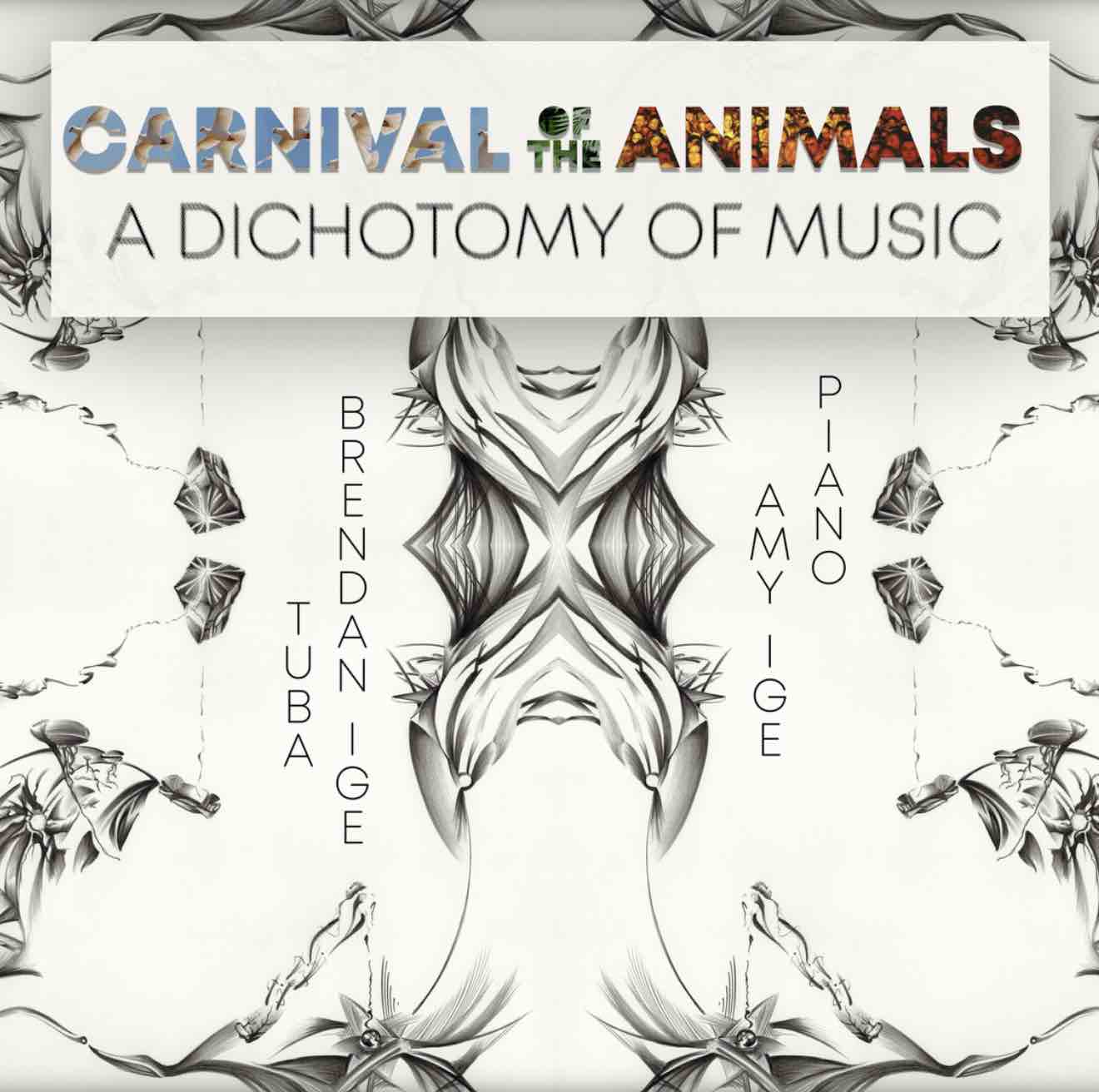 Men Wearing Dresses
Poltergeist
Bandcamp, Spotify, etc.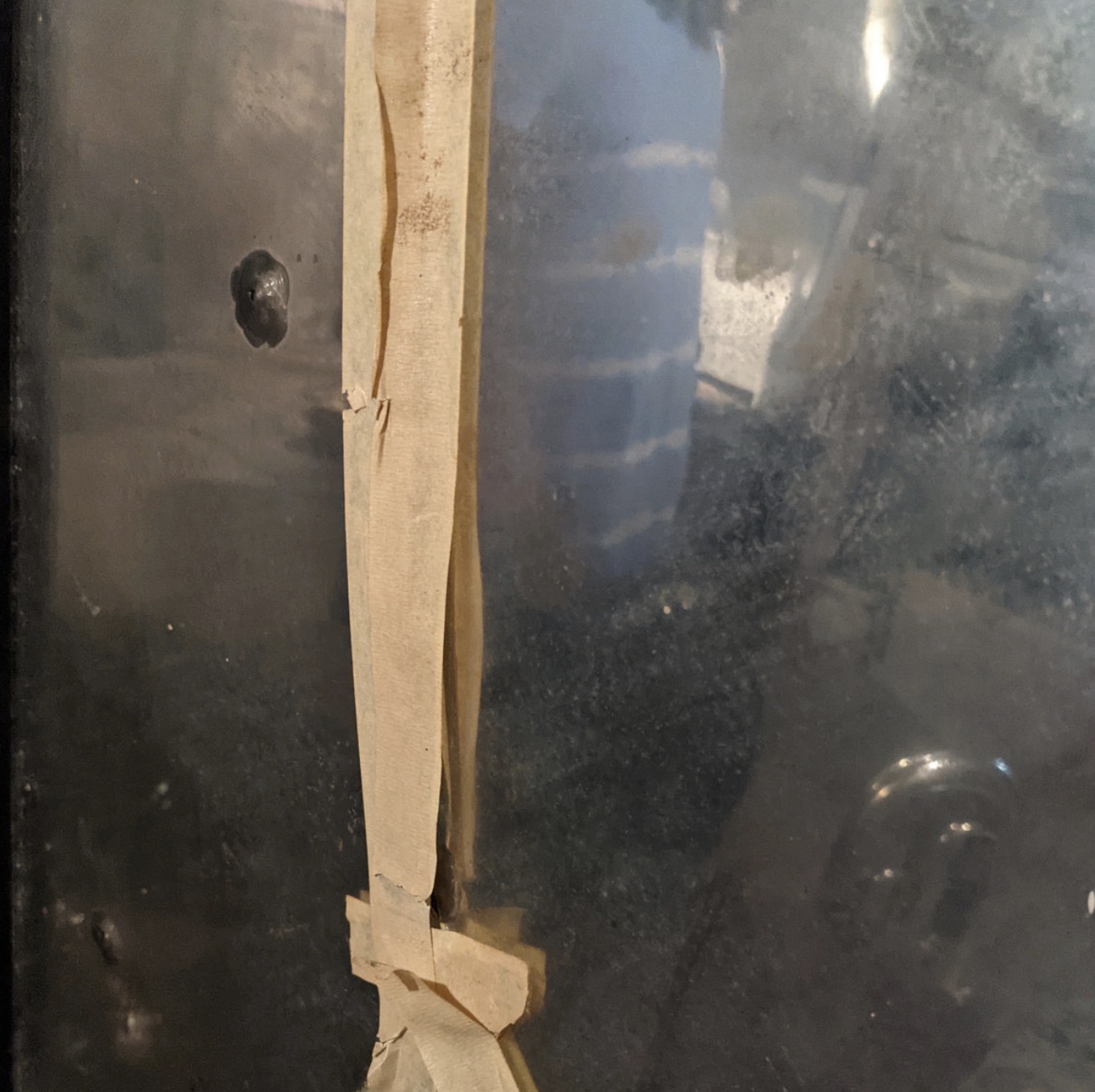 Starlust
Bandcamp, Spotify, etc.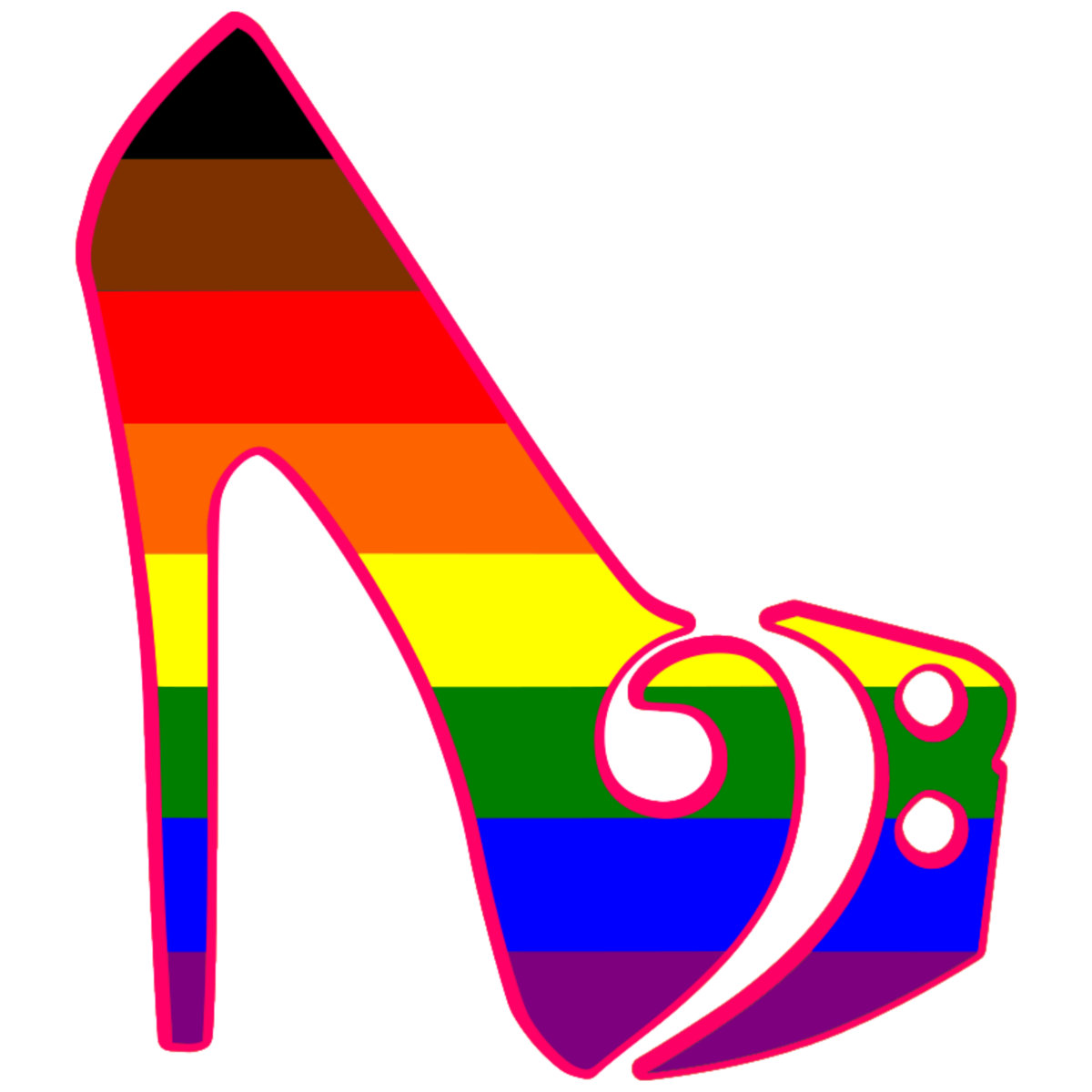 Review by Derek Fenstermacher

    Really enjoyed listening to Brendan Ige's new album 'Starlust'. It's a real genre defining album…being a huge fan of Youngblood Brass Band I was introduced to what's possible on the tuba by Nat McIntosh at a young age; Brendan too has pushed the capabilities of the instrument (as well as flugabone, euphonium and serpent) into a completely new sound. I especially enjoyed 'Cosmic Heart', 'Milky Way', and the title track 'Starlust'. Highly recommend checking it out with a good pair of headphones.
Review by Scott Zanassi in Beats Per Minute's Hidden Gems series

    How to describe [Starlust]? It's like electronic music played with actual instruments, but not your ordinary instruments. Remember in school when you had band class? When I was in 3rd grade, all of us started with plastic recorders we called "song flutes". Then 4th grade started and those of us that wanted to be in band class got to play actual instruments. Woo! I started out playing the saxophone but the thing was bigger than I was so I switched to the clarinet. Out of all the kids, most of us boys played the clarinet or sax, girls tended to gravitate toward the flutes, that one cool kid who started smoking pot around the age of 9 was the drummer, add a couple trumpet players and we all rocked. Oh yeah and there was the one weird guy who chose to play the trombone and the even weirder dude who played that monstrosity they called the tuba.
    Boy, was I a misguided kid, because this album by Men Wearing Dresses is comprised of these genius weirdos who decided to make a band centered around the tuba, trombone and some instruments I've never even heard of including euphonium, flugabone, and an instrument that's actually called a 'serpent' which you have to google to believe how weird the thing looks, and it's all combined with some amazing beats and other electronic textures. This is avant-garde music at its best. The weirdo playing all these odd and eccentric instruments, Brendan, is just insane with these sounds, man. I never thought tuba-centric music could sound so good and captivating. The beats and atmospheric psychedelic gloop that holds it all together, provided by John Baylies, is just a perfect blend for all those strange bass-heavy melodies. Baylies really knows how to capture those horn noises and turn them into something really grand. I'm sitting here in my bedroom but listening to this I feel as if I'm floating in an isolation tank and enjoying every second of it. I never thought it was possible to make psychedelic music with these kinds of instruments, but here we are. I'm delighted with the 21st century, as I am with this album.